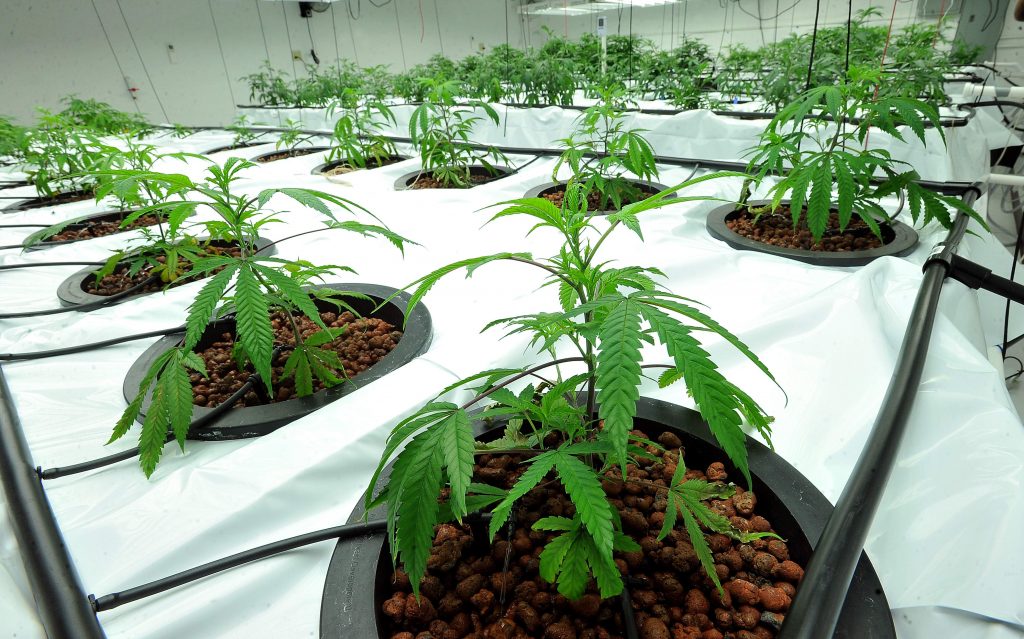 Marijuana plants grow in a hydroponics system in an Eagle Point warehouse owned by Grow Condos. Mail Tribune / File Photo
An Eagle Point company that provides warehouse space for marijuana growers is planning a marijuana-friendly camping and RV park near Lake Selmac in Josephine County.
Grow Condos is looking at buying a piece of property near Lake Selmac in Josephine County for a marijuana-friendly camping and RV park called "Smoke on the Water," according to Wayne Zallen, the company's chief executive officer.
If approved, it could be the third project for Grow Condos, which offers fully outfitted indoor grow spaces for sale or lease at its first project, a 15,000-square-foot facility that opened in 2015 in Eagle Point. The company is also working to launch an industrial pot-growing facility in Eugene.
"It's all coming together," Zallen said.
A cartoon-like rendering of the latest project on the company's website shows a marijuana-friendly campground for tent and RV campers. The company hopes to expand the business model to campgrounds in other marijuana-friendly states, according to Zallen, with amenities including a recreational dispensary at the facility, though his company's lawyers are looking into land-use laws.
The company is also making progress on its second commercial marijuana indoor growing and processing facility in west Eugene, according to Zallen.
At the end of December, the company submitted an application and site plans to the city of Eugene for a project called "Nuggetville," a 48,350-square-foot commercial marijuana processing facility that would be more than three times larger than the company's existing 15,000-square-foot warehouse that accommodates 10 growers and processors in Eagle Point. All spaces at the Eagle Point facility are occupied, Zallen said.
A 40-page proposal submitted to the city of Eugene in December showed blueprints for four warehouses on a 2.65-acre industrial property off West First Avenue. The company, through a surveying and building design firm called Geomax Inc., paid $5,824.96 for site review, fire review and administrative fees, according to a receipt from the city's Building & Permit Services.
The four buildings would be built in phases, according to Grow Condos promotional materials, and would be able to accommodate about 33 growers. The company purchased the land in March, which neighbors a plumbing business and a diesel repair shop, according to a report in the Eugene Register-Guard.
Zallen said his business was warmly received by the city of Eugene, which made staff available to provide feedback on proposal drafts.
"Eugene rolled out the red carpet," Zallen said.
One challenge the company has faced is the inability to work with banks because of the company's focus on marijuana.
"We just can't go to a bank and borrow money," Zallen said.
Instead, the company builds cash reserves for its initiatives, according to Zallen. In March the company got a $5 million investment from Tangiers Capital LLC of San Diego, which Zallen described as a line of credit.
"We'll use it strategically when we need to," Zallen said.
Each time the company uses some of the investment capital, it issues stock to Tangiers, according to Zallen. On Friday, the stock was trading at $1.11 a share on the New York-based OTC Markets Group.